When it comes to commercial solar-powered outdoor lighting, the requirements are greater than for residential properties. Outdoor lighting has to illuminate a much wider area than a small garden or driveway. They also need to be more durable as they have to withstand harsher conditions. This article will help you find the top 5 commercial outdoor solar lighting solutions. We have picked the best and most powerful solar lights for any type of commercial application. Let's look in detail at the best flood lighting solutions that work off solar power. One of the benefits of these flood lights is the energy-saving capacity. The unit has 8 lighting modes that can be programmed to come on in low-light or you can control them by remote control. The commercial unit is housed in a rust-free aluminum casing. The weatherproof solar panel is adjustable for best results. Save up to 80% on energy bills with these solar flood lights. Fully weatherproof and operates effectively in all conditions. This flood light solar-powered unit is bright enough to illuminate up to 350 m2 (3,767 sq. ft.). It also features a number of lighting modes to adjust brightness and the remote control allows you to switch on and off the lights. 180 LEDs provide super white light and the heavy-duty 24000mAh battery allows for the longest possible working time. Easy to install can come with fully waterproof connectors. Up to 20 hours lighting in the half-light mode This solar lighting commercial unit can be installed on walls, fences, or other objects. The lighting head contains 48 powerful LEDs and can be rotated up to 180 for convenience. As with all of the best commercial solar outdoor lighting solutions, this is housed in high-quality durable material and is completely water and weatherproof. 4 lighting modes that include dim and bright modes as well as emergency lighting. Easy to install and no wiring is necessary. The solar panel commercial lighting unit is fully remote controlled. The controller allows you to choose a number of lighting settings depending on your needs. The built-in motion sensor means that this is the perfect security solution for large outdoor areas. Automatically switches on and provides up to 16 hours of bright illumination. Motion sensor with bright and dim modes to conserve power. IP65 waterproof casing that works in all weather conditions One of the advantages of this solar-powered outdoor flood light is the large high-efficiency solar panel that is independent of the lighting unit. The solar panel can be installed exactly where you need to capture the sun's rays. The solar light can then be installed where you need it for your landscape illumination needs. Flexible commercial solar lighting solution for any type of landscape illumination or park illumination. Up to 20 hours of continuous light. Flood light capacity for up to 350 m2 (3,767 sq. ft.). It's a dusk-to-dawn solar light, which means it turns on automatically at dusk and turns off again automatically at dawn. If you do want to control the light manually you can use the remote control. This allows you to turn it on/off, adjust brightness, as well as setting timing modes. The 24K gold-plated connectors and copper wiring further ensure optimal charging efficiency of up to 40 times faster than traditional cables. Automatic dusk-to-dawn mode as well as manually adjustable settings A noteworthy bonus is the long lighting time, which once fully charged can reach up to 5 days of lighting! Long lighting time of up to 5 days Further features include the remote control, offering three timing modes and separate brightness modes, and a long lifespan of more than 50,000 hours. Below, we will walk you through the things to consider when buying commercial solar floodlights. After reading, you will know exactly what to look for in your new flood lights. Let's first recap why you would want to install commercial flood lights in the first place. After all, before purchasing any light you need to be sure that it's the right thing for you. Commercial solar flood lights are the most cost-effective solution to illuminate large outdoor areas. Using lights powered by solar panels can greatly cut down on energy bills. Providing solar-powered lighting on commercial properties can also increase security and reduce the risk of vandalism or break-ins. There are always good reasons why people search specifically for Commercial grade solar lights and usually they are needing lights that are brighter, more robustly constructed and stay lit for longer. Another often forgotten benefit is that they will continue to work during power blackouts which is vital for security of your premises. Since solar lights are not connected to the mains power supply you do not have to worry about any cables or wiring. You can install solar flood lights wherever you want, as long as the solar panel can be placed somewhere where it can collect sunlight. Firstly, you can use them to illuminate open public places. In many ways, these lights can replace the usual lamp posts. Some examples include: Secondly, you can also use smaller floodlights that are specially designed to illuminate landscaping features. Doors (like emergency exits or the entrance to a building) Waterfalls or fountains (in particular, large water features at commercial buildings or parks) And these are just a few of the many possible applications of commercial solar flood lights. The main difference to bear in mind between personal-use solar flood lights and commercial-grade ones is that the commercial use lights that are much more powerful. They are designed to cover a much larger space and tend to be much brighter. So, unless you have a reasonably large garden, commercial lights tend to be reserved for company buildings, public spaces, or construction sights only. How to Choose the Best Commercial Solar Flood Lights So, what should you look for before deciding on buying commercial flood lights that are powered by solar power? This is probably the first thing you thought of yourself, and that makes sense. The most important consideration is the level of brightness you require. This where knowing what are lumens and how many do I need to light up my area. Some of the best solar-powered commercial floodlights are up to 12,000 lumens bright which is enough for street lighting or football parks. You should also consider the size of the battery. For example, if you need bright lighting throughout the night you will need floodlights with a high-quality solar panel and large battery. If security is required, then security lights with motion sensors can switch on and off when someone is close by. Some solar lights simply have an on/off button on the light itself or, alternatively, a cord hanging from the light with which you can turn it on or off. However, the most user-friendly commercial solar lights come with a remote control to more easily operate your device. Generally, the better the product the more separate adjustable modes and settings it will have. If your product comes with remote control, it will probably include different modes. Brightness adjustments and timing settings are handy features that allow you to fully customize your solar light. Your solar light can be as bright as day, but that wo not do any good if it breaks instantly during the first day of Winter. That's why it's always advised to go for a product that's made of sturdy material, such as steel or aluminium. Another important feature is to ensure durability is the product's Ingress Protection (IP) rating. This rating shows how weather resistant the product is. Most quality solar lights have at least an IP65 rating. If you are buying commercial-grade flood lights to protect your company's property, you need to be sure they last through the night. That's why it's always good to check a product's runtime after a full charge. You should choose a product that has a minimum runtime of at least 12 hours so you know it always lasts through the night. Last but not least, price. Prices can strongly vary. The cheapest option probably wo not last long, but equally, more expensive does not always mean better performance. Instead of just focusing on the price of a product, you are better off looking at expert reviews and brand reputations to ensure you are buying a quality product. There are a number of ways that you can use commercial solar outdoor lighting solutions. For example, powerful LED lights can illuminate car parks, basketball courts, streets, or the perimeter of buildings. You can also use smaller floodlights that are specially designed to illuminate landscaping features. Strategically-positioned floodlights can shine on trees, flagpoles, statutes, or highlight architectural features in the dark. We hope that the information here helps you choose the perfect commercial solar lighting solution for your needs.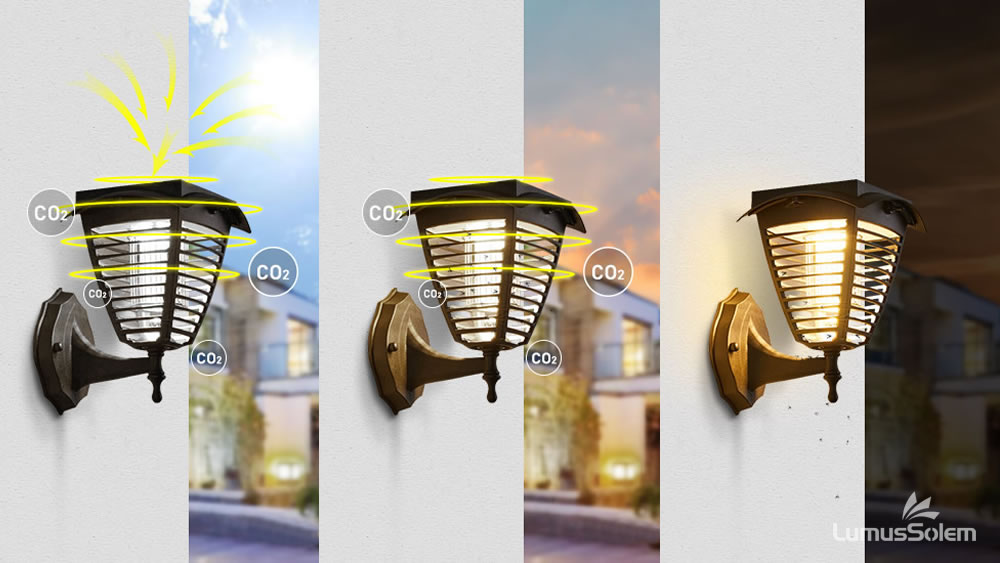 1. What are the basic types of light, for interior effects?
There are so many types of lights, Lighting during the day is different from how it is viewed at night time. Proper lighting is more important at night. Install outdoor lighting at your home or workplace and it will make your outdoor spaces more attractive. Having the right exterior lighting creates an amusing atmosphere in the surroundings.It also helps in making the exterior of a home more enchanting. It certainly adds a touch of elegance and takes your outdoor spaces to the next level. so here we are going to tell you some amazing out of the box ideas to illuminate your outdoor.1.Pendant lightsPendant lights are frequently used in kitchen countertops and sometimes hung in a straight line in the rooms. But you can also use pendant lights in outdoor. Pendants come in a large variety of types and differ in materials from plastic to metals. pendant lights also come with eco-friendly energy-saving bulbs. If you are concerned about the environment you can use energy-saving light bulbs. You can use the bulbs accordingly. continue readingWhat are the basic types of light, for interior effects?
2. How do you take amazing pictures?
uhm, outdoor lighting is always great, especially when its sunrise/sunset (: good luck! oh, and editing programs can also fix your lighting and stuff. ;)