Nowadays, the world has been shifting towards sustainable and reliable lighting sources. In this regard, solar powered street lights are emerging as a popular solution to these problems. A wide range of high-quality solar products is available in the market. Solar light manufacturing companies are introducing new developments and technologies in their solar products.
No doubt, solar lights are renewable and reliable light energy solution. It takes the attention of a lot of people around the globe, especially government agencies. You can buy high-quality solar LED lights at affordable rates. People are now buying eco-friendly and versatile lighting solutions. They can be installed as commercial lighting, street lights, and public utility lighting.
If you want to buy the best solar street lights, you should have an idea about their purchase, installation, and maintenance cost. Explore this comprehensive guide about solar street light cost comparison to select the best solar product.
How do Solar Street Lights Function?
Solar street lights are sustainable light sources that have multiple advantages. Usually, solar powered street lights are installed into the street poles or mounted to the light structure or street walls. Normally, best solar street lights are made of solar batteries and photovoltaic panels. These batteries and panels charge the solar LED light or fluorescent lamp at night time.
Outdoor solar street lights is a self-sustained system that uses photovoltaic panels to generate and store energy from the sun. Each kind of solar street light contains dusk to down sensors. These sensors automatically turn on lights when the sun sets and turn off when the sunrise.
Traditional Vs. Solar Street Light Cost Guide:
1. Lifetime Cost
As compared to traditional street lights, the purchasing cost of solar lights is two times higher than traditional lights. However, it is still considered a lifetime investment. The per-unit installation and maintenance cost of traditional street lights over 7-8 years ranges between $7000-$10,000. On the other hand, the maintenance and installation cost of solar street LED/poles over the same time ranges between $3,500-$5000.
2. Installation Cost:
In the case of the installation of traditional street lights and poles at remote locations, you need to have a good budget. It includes wiring, underground trenching (for connecting wires to grid line), and many other installation costs. On the other hand, all you need for the installation of solar powered street lights is to build a concrete base and install a solar street light pole.
The labor cost of one feet installation and trenching ranges between $25-$50. You will also need about 30 feet of wiring cable, depending on the gridline location. All these things take more time and add additional costs that may lead to more problems or even postpone of project.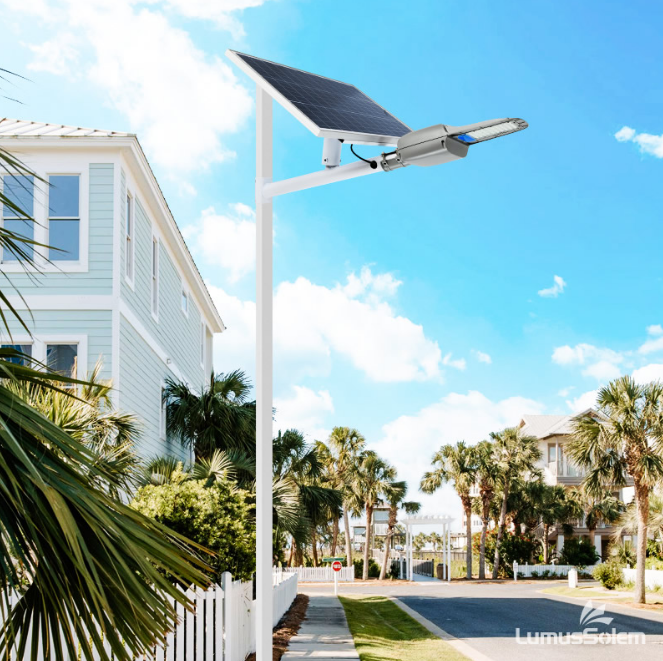 3. Maintenance Cost:
Street light maintenance is one of the main problems that people face. The reason that made it a big problem is the high maintenance cost. A regular sodium bulb has an estimated 5-years of life. On the other hand, a LED light has an estimated 10-years lifespan. Outdoor solar street lights need the replacement of the battery every 5-7 years.
In addition, the maintenance cost of advanced solar products is almost 70 times less than regular sodium bulbs and metal halide street lights. It can be hard to find and purchase the best solar street lights batteries for the first time. However, if you buy Best solar street lights batteries, it ultimately turns out good investment and visibly reduce maintenance cost.
4. Price of Solar Street Light Pole:
In case you are planning to purchase solar lights for your backyard, garden, street house, or parking, you must comparison solar street light costs. The cost of solar street lights as compared to traditional street lights is almost two times higher. Therefore, you need a much bigger budget for the purchase and installation of the entire solar lighting system.
You might think the cost of purchase and installation of solar powered street lights is a little out of your budget. But the best thing about investing in solar lights is their numerous benefits. The most important advantage is you get free from the hassle of paying monthly electricity bills. So, it turns out to be a beneficial investment in terms of saving your time and money.
You might pay an estimate of $10,000 over the 7-8 years for the maintenance and electricity bills. Instead, if you invest your money in solar street lights, you have to spend less money on the maintenance of lights. It reduces to an estimate of $5000 over the same time that is half of the standard street lights maintenance cost.
Is it Worth to Buy and Install Solar Street Lights?
It would not be wrong to say that investment in the best solar street lights is indeed worth your decision and money. It is based on the average purchase cost of solar street lights, their installation, maintenance, and their numerous benefits. No doubt, as compared to traditional street lights, solar street lights are a great choice if you want an advanced lighting solution.
The sustainable and renewable technology of solar powered street lights blends well with our today's needs. Although the purchase and installation of solar lights require a big amount, you would be satisfied it is a lifetime investment. It would return initial purchase and installation expenses for the next coming years.
Final Verdict:
When you compare standards street light systems with solar light, you get a clear idea of which one is the best. In the battle of modern lightning, advanced technology wins. According to an estimate, the cost of outdoor solar street lights for 5-years is around $4,800. On the other hand, a traditional lightning system costs around $8,800 because of high installation charges.
Indeed, solar street lights won the race for street lights cost. But traditional street lights are also better in some areas of street light features. Solar powered street lights are made up of high-tech solar cell panels and batteries that ultimately reduce maintenance costs. You can get the worth of your money and time by investing money in best solar street lights.